*** DRAFT ***
Mike Ilitch (Little Caesars) purchased the Detroit Tigers from fellow pizza magnate Tom Monaghan (Domino's Pizza) in August 1992 for a reported $82.0 million.
Over the past 27 seasons, the "Ilitch Era" has been a roller-coaster ride. The upside: two World Series and two ALCS appearances, one LDS appearance; four divisional titles. The downside: four 100+ loss seasons, two worst-in-baseball seasons, twelve consecutive years of sub-500 records, 19 losing seasons, and a 1-8 World Series record.
Rebuilding the Team
For the past several years, the Tigers have been "rebuilding". The question at hand, can current Tigers management keep its promise to deliver a winner in the near future?
"It's clear to anyone that follows Tigers baseball that our organization is undergoing a significant transformation." Chris Ilitch, Chairman Detroit Tigers (July 2019).
"Avila is operating this rebuild under the premise that once his minor-league prospects become major-league players, ownership will once again open their pocketbooks. 'You have to have enough of a nucleus of those guys that, when that payroll gets to a point where it's not a burden anymore, you can go out there and get some guys and add on,' Avila said. " (Source: Detroit Free Press)
Can the Tigers rebuild from within? Can General Manager Al Avila stock the Tigers' farm system with "minor-league prospects" and develop them into "major-league players"? Can Manager Ron Gardenhire make the Tigers perennial contenders? The past 27 years suggest tough times ahead for both the Tigers organization and Tigers fans.
The Ilitch Era. Worst In Tigers History?
The first full season of the Ilitch Era began in 1993. Since then, the Detroit Tigers have won 1,975 games (.457). That's third worst among the 28 MLB teams in existence since 1993. Only the Kansas City Royals (1,926 wins, .446) and Pittsburgh Pirates (1,958 wins, .453) have fewer wins during the Ilitch Era.
Points of interest: In 1998, the Arizona Diamondbacks and Tampa Bay Rays joined MLB as expansion franchises. Since their inception, both Arizona (1,763 wins, .495) and Tampa Bay (1,686 wins, .473) have won more games than the Detroit Tigers (1,645 wins). The 1994 and 1995 seasons were shortened by a player strike. In 1994, teams played 117 games. In 1995, they played 145 games.
Table 1: Wins by Team – Since 1993 Season
Rolling Up The Losses at a Historical Rate
The first full season of the Ilitich Era began in 1993. Over the next 27 seasons, the Detroit Tigers won 1,975 games. Since 1901, the Tigers have played 93 rolling 27-season periods (e.g., 1901-1927, 1902-2028, 1993-2019, and so forth). Among these 93 periods, the Ilitch Era has the fewest wins in Tigers history and is the only such period where the Tigers didn't win at least 2,000 games.
Mike Ilitch purchased the Detroit Tigers in August 1992. During the 27-season period immediately preceding his purchase (1966-1992), the Tigers won 2,235 games.
Among today's 30 MLB teams, two have played fewer than 27 seasons (Arizona and Tampa Bay). In 1961, MLB expanded its season schedule from 154 to 162 games. Between 1961 and 2019, these 28 teams completed 794 rolling 27-season periods. The Ilitch Era ranks 770th of 794. During the Ilitch Era, the New York Yankees won 2,559 games (1st of 794).
World Series Drought Continues
Since 1901, the Detroit Tigers have appeared in eleven World Series Championships, they've won four (1935, 1945, 1968, and 1984). It has been 36 years since the Tigers last won a World Series Championships, the longest drought in Tigers' history. During the Ilitch Era, the Tigers have appeared in two Worlds Series Championship. In 2006, they lost in five games to the St. Louis Cardinals. In 2012, defeat came in four games to the San Francisco Giants.
Can the Tigers Build a Farm System?
To build from within, the Detroit Tigers need a productive farm system. Should Tigers fans have confidence that management has the skill to identify, draft, and develop minor-league prospects into everyday major league ballplayers?
In May 2019, Baseball America published an article, "How Many MLB Draftees Make It To The Majors". The stated objective: "In studying every draft since Baseball America began covering the draft in 1981, we wanted to answer a very simple question: how many players drafted in June's MLB draft will eventually make it?" The study concludes, "The answer is less than one in five. It's too early to judge the 2011 to 2018 drafts, but from 1981-2010, 17.6 percent of players who were drafted and signed ended up making it to the majors."
As expected, not all draftees are the same. "Those odds vary dramatically depending on where a player is drafted. First-round picks can expect to reach the major leagues… From 1981 to 2010, 73 percent of first-round picks reached the majors."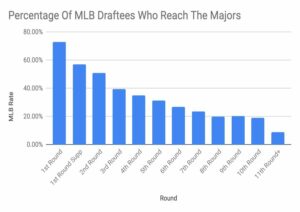 During the Ilitch Era, the Detroit Tigers made 31 first-round selections. Six top-5 overall, 12 top-10 overall, and five supplemental picks. Presently, 16 of 31 first-round picks have played at least one game in the major leagues (51.6%). Adjusting for the most recent four drafts, 16 of 27 selections have played a game in the major leagues (59.3%). Compared to a benchmark of 73%, it would appear the Tigers have under-performed during the Ilitch Era.
During the 27-season period immediately preceding the Ilitch Era (1966-1992), the Detroit Tigers made 30 first-round selections of which 20 played at least one game in the major leagues (67%). Over their entire MLB careers, these players played in 12,859 games. To date, Ilitch Era first-round picks have played in 5,893 MLB games. The last Tigers first-round pick to become an everyday Tigers player was Nicholas Castellanos (drafted 2010), he was traded to the Chicago Cubs in 2019.